Modeling and Measurement of Rocket Performance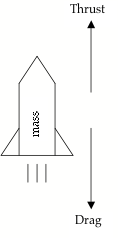 If mass change is small

A software package such as Rocksim has models for the mass, thrust, and drag, and integrates Newton's second law.

If you have

data (say from an altimeter) you can get velocity and acceleration by numerically differentiating.


How do you take numerical derivatives? The straightforward method is known as finite difference. There are two types, forward and backward. For a set of data points

Forward Difference

Backward Difference

If the sample rate is constant the denominator can be replaced with

.
However, numerical derivatives amplify noise. There are a number of methods for removing noise from numerical derivatives. Two common ones are to:
Low-pass filter either the signal, the derivatives, or both.
Fit a smooth function, such as a polynomial or cubic spline to the data points and then analytically take the derivative of the fitting function.
There are others.
Because numerically integrating reduces noise (but is sensitive to drift) inertial measurement systems integrate accelerometers, rather than differentiate position data. The best method uses a Kalman Filter and uses data from acceleration, velocity, and position measurements.