---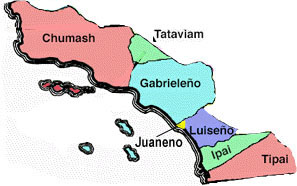 ---
Return to previous page.

.

.

.

.

.

.
Santa Ynez Reservation (Chumash)
One mile east of Solvang on CA#246.
San Diego County Reservations (Juaneno, Luiseno, Ipai, Tipai, Cupeno, Kumeyaay)
There are eighteen reservations in San Diego County; refer to local maps. Representative reservations are:

Pala Reservation
CA#76 and S-16.
La Jolla Reservation
Two miles east of the Palomar Exit, CA#76.
Rincon Reservation
Ten miles northeast of Escondido on S-6.
Pechanga Reservation
Pechanga Road, off of S-16 south of CA#79.
Barona Reservation
Wildcat Canyon Road, south of Ramona.
Sycuan Reservation
East of El Cajon off I-8 at Alpine-Tavern Exit.
Viejas Reservation
Use E. Willows Road Exit from I-8, near Alpine.
Morro Bay State Park Museum of Natural History
State Park Road, Morro Bay (805-772-2694)
Social Sciences Department, California Polytechnic State University, San Luis Obispo
Includes, artifacts, special collections, and manuscripts (805-756-2260).
San Luis Obispo County Historical Museum
696 Monterey Street, San Luis Obispo (805-543-0638)
Santa Barbara Museum of Natural History
2559 Puesta Del Sol, Santa Barbara (805-963-7821)
Santa Barbara Historical Society Research Library
136 E. De La Guerra, Santa Barbara (805-966-1601)
Department of Anthropology, University of California, Santa Barbara
Includes archaeological site records for the Central Coastal Region, Special Collections at the University Library, and portions of J. P. Harrington's field notes. (805-961-2474)
Albinger Archaeological Museum
113 East Main Street (805-648-5823)
Ventura County Museum of History and Art
100 East Main Street (805-653-0323), including the Research Library and Archives.
Simi Valley Historical Society and Museum
Includes artifacts (805-495-7759)
Chumash Interpretive Center, Oakbrook Regional Park, 3290 Lang Ranch Parkway, Thousand Oaks (Take Westlake Blvd north from US#101)
Satwiwa
Santa Monica Mountains National Recreation Area (805-597-9192), exit Wendy Drive from US#101 and proceed south to Rancho Sierra Vista, includes a replica Chumash village and weekend activities.
Catalina Island Museum
Avalon (213-510-2414)
Rancho Los Alamitos Historic Site and Gardens, village site of Puvunga
6400 Bixby Road, Long Beach (213-431-3541)
Natural History Museum of Los Angeles
900 Exposition Boulevard (213-744-3466)
Southwest Museum
234 Museum Drive, Los Angeles (213-221-2163) (exit 43 off of Pasadena Freeway), a major resource, including docent tours and Braun Research Library.
Department of Anthropology, University of California, Los Angeles
Includes archaeological site records for the South Central Coastal Region, Special Collections at the University Research Library, and Fowler Museum of Cultural History (213-825-4361).
The Huntington Library
1151 Oxford Road, San Marino (818-405-2100)
Claremont Colleges
150 East 10th Street, Claremont (909-621-8026), includes Honnold Library Special Collections, Montgomery Art Gallery (909-621-8283), and Humanities Museum (Scripps College).
Pacific Coast Archaeological Society
meetings at Natural History Museum of Orange County, 2627 Vista Del Oro, Newport Beach.
See also Resources in Capistrano
Museum of Anthropology and Archaeological Research Facility, California State University, Fullerton
Includes artifact collections and field reports (714-773-3977).
National Archives --- Pacific Southwest Region
24000 Avila Road, Laguna Niguel, includes records of the Bureau of Indian Affairs.
Bowers Museum
2002 North Main Street, Santa Ana (714-972-1900)
Social Sciences Research Laboratory, California State University, San Diego
Includes archaeological site records for the South Coastal Region (619-594-5682).
San Diego Museum of Man
1350 El Prado, Balboa Park, San Diego (619-239-2001).
Source: Vane, Sylvia Brakke and Lowell John Bean. California Indians: Primary Sources (Menlo Park, CA: Ballena Press, 1990)
California Mission Studies Association, 15th Annual Conference, (2/13/98 this year) at Mission San Juan Capistrano, more info call (714) 493-4933.
SHHAR Quarterly Meeting, "Researching Indigenous Roots," at Orange Family Center(2/28/98), 9am-12 noon, 674 S. Yorba, Orange, CA.
Randy Folkes (Chumash) P.O.Box 9278, Anaheim, CA 92812 (714-694-0843)
Craig Torres (Tongva) (714-542-6678)
---
Books Dealing with this Region
Greenwood, Roberta S. and Browne, R. O.. A Coastal Chumash Village: Excavation of Shisholop, Ventura Co., Calif. (Southern California Academy of Sciences, 1969)
Bryan, Bruce. Archaeological Explorations on San Nicolas Island (Southwest Museum Press, 1970)
Anderson, Eugene N., Jr.. Bibliography of the Chumash & Their Predecessors (Ballena Pr, 12/1978)
Librado, Fernando; Hudson, Travis (ed.). Breath of the Sun: Life in Early California As Told by a Chumash Indian (Malki Museum Press, 1980)
Santa Barbara Museum of Natural History. California's Chumash Indians (EZ Nature, 07/1988)
Thompson-Moraga, Gary. Chumash (Dorchester Pub, 1986)
Hudson, Travis. Chumash Archery Equipment (San Diego Museum of Man, 1974)
Hoover, Robert L.. Chumash Fishing Equipment (San Diego Museum of Man, 1973)
Walker, Phillip L. and Travis Hudson. Chumash Healing: Changing Health and Medical Practices in an American Indian Society (Malki Museum Press, 1993)
Olson, Ronald LeRoy. Chumash Prehistory (University of California Press, 1930)
Hudson, Travis. Chumash Wooden Bowls, Trays & Boxes (Ballena Pr, 03/1978)
Miller, Bruce W.,III. Chumash: A Picture of Their World (Sand River Pr, 04/1988)
Hudson, Travis and Ernest Underhay. Crystals in the Sky: An Intellectual Odyssey Involving Chumash Astronomy, Cosmology & Rock Art (Ballena Pr, 1978)
Blackburn, Thomas C. (ed.). December's Child: A Book of Chumash Oral Narratives (U of Cal Pr, 1976 )
Geiger, Maynard (trans.). Fray Antonio Ripoll's Description of the Chumash Revolt at Santa Barbara in 1824 (Friends of Mission Santa Barbara, 197?)
Hudson, Travis. Guide to Painted Cave (Santa Barbara Museum of Natural History, 1982)
Whitley, David S.; McCann, Ellen L.; Clewlow, C. William,Jr. (Eds). Inland Chumash Archaeological Investigations (UCLA Arch, 1980)
Orr, Phil C.. Prehistory of Santa Rosa Island (Santa Barbara Museum of Natural History, 1968)
Gibson, Robert O.. The Chumash (Chelsea House, 1989 )
Anderson, Eugene N., Jr.. The Chumash Indians of Southern California (Malki Museum Press, 1973 )
Landberg, Leif C. W.. The Chumash Indians of Southern California (Southwest Museum, 1965)
King, Chester Dewitt. The Evolution of Chumash Society: A Comparative Study of Artifacts Used in Social System Maintenance in the Santa Barbara Channel Islands (UMI Dissertation Information Service, 1989)
Librado, Fernando; Hudson, Travis (ed.). The Eye of the Flute: Chumash Traditional History and Ritual (Santa Barbara Museum of Natural History, 1977)
Hudson, Travis and Thomas C. Blackburn. The Material Culture of the Chumash Interaction Sphere, Vol. I: Food Procurement & Transportation (Ballena Pr, 10/1982)
Hudson, Travis and Thomas C. Blackburn. The Material Culture of the Chumash Interaction Sphere, Vol. II: Food Preparation & Shelter (Ballena Pr, 11/1983)
Hudson, Travis and Thomas C. Blackburn. The Material Culture of the Chumash Interaction Sphere, Vol. III: Clothing, Ornamentation, & Grooming (Ballena Pr, 03/1985)
Hudson, Travis and Thomas C. Blackburn. The Material Culture of the Chumash Interaction Sphere, Vol. IV: Ceremonial Paraphernalia, Games & Amusements (Ballena Pr, 05/1986)
Hudson, Travis and Thomas C. Blackburn. The Material Culture of the Chumash Interaction Sphere, Vol. V: Manufacturing Processes, Metrology, & Trade (Ballena Pr, 1987)
Lee, Georgia; Hudson, Travis (frwd.). The Portable Cosmos: Effigies, Ornaments & Incised Stone, Chumash Area (Ballena Pr, 06/1981)
Grant, Campbell. The Rock Paintings of the Chumash (Santa Barbara Museum of Natural History, 1993)
Hudson, Travis, Janice Timbrook, and Melissa Rempe. Tomol: Chumash Watercraft (Ballena Pr, 06/1978)
McCawley, William, The First Angelinos: The Gabrielino Indians of Los Angeles (Malki Museum Press & Ballena Press, 1996)
Johnston, Bernice E.. California's Gabrielino Indians (Southwest Mus, 1962)
La Lone, Mary. Gabrielino Indians of Southern California: An Annotated Ethnohistoric Bibliography (Institute of Archaeology, University of California, 1980)
Miller, Bruce W.. The Gabrielino (Sand River Press, 1991)
Galloway, Anne. Tovangar: A Gabrielino Word Book (Malki Museum Press, 1978)
Preble, Donna. Yamino-Kwiti: A Story of Indian Life in the Los Angeles Area (Heyday Books, 1983)
Van Horn, David M.. The Hoopaugh Site: A Prehistoric Quarry in the Foothills of the Santa Ana Mountains (, )
O'Neil, Stephen and Nancy Evans. "Notes on Historical Juaneno Villages and Geographical Features," in Journal of California and Great Basin Anthropology, 2/2 (1980) 226-32.
Hyde, Villiana. An Introduction to the Luiseno Language (Malki Mus Pr, 1971)
Moriarty, Robert James. Chinigchinix: An Indigenous California Indian Religion (Southwest Museum, 1969)
Beemer, Eleanor. My Luiseno Neighbors (Acoma Bks, 1980)
Kroeber, Alfred L.. The Religion of the Luiseno Indians of Southern California (University of California Press, 1908)
Almstedt, Ruth F.. Bibliography of the Diegueno Indians (Ballena Pr, 04/1974)
Almstedt, Ruth F.. Diegueno Curing Practices (San Diego Museum of Man, 1977)
Treganza, Adan E.. Possibilities of an Aboriginal Practice of Marginal Agriculture Among the Southern Diegueno (Society for California Archaeology, 1946)
Carrico, Richard L.. Strangers in a Stolen Land: American Indians in San Diego, 1850-1880 (San Diego State University, 1986)
Cuero, Delfina; Shipek, Florence C.. The Autobiography of Delfina Cuero, a Diegueno Indian (Dawsons, )
Davis, Edward H.. The Diegueno Ceremony of Death Images (Museum of American Indians, New York, 1919)
Kroeber, Alfred L., John P. Harrington, and J. Woodward. The Diegueno Indians (Acoma Bks, 1975)
Waterman, Thomas Talbot. The Religious Practices of the Diegueno Indians (University of California Press, 1910)