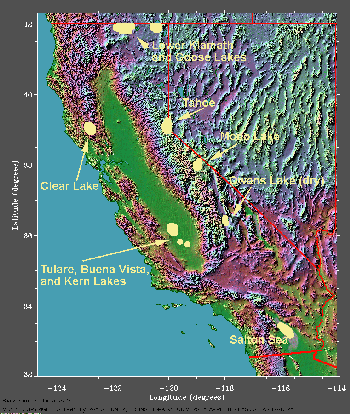 Lakeshores
The larger lakes produce a significant impact on the surrounding ecological relations. Since they do not freeze to the bottom, even in extreme cold, they provide a year-round habitat for a wide variety of fish and other aquatic life (including fresh-water clams along the shoreline). Plant life along the shoreline is impacted by the elevated water table and usually provides habitat preferred by waterfowl for feeding and nesting. And, of course, the lake's ready and dependable water supply supports a larger and more varied population of other animals. California possessed (see Note) four large lake basins --- Clear Lake (in the Coastal Mountains north of San Francisco Bay), Lake Tahoe (in the Eastern Sierras), Lower Klamath Lake (also, Goose Lake, in the Northeastern Plateau), and Tulare Lake (also, Buena Vista Lake and Kern Lake, in the southern San Joaquin Valley). The high desert environments of the Eastern Sierra also provided Mono Lake and Owens Lake (now dry); the Salton Sea was in the low Sonoran desert of the South. These were all high in salt content and provided different kinds of ecological resources and affects. The larger lakes may even provide populations of spawning fish in the rivers and streams that feed into them. In the autumn, for instance, one can see huge numbers of spawning kokanee (land-locked sockeye salmon) in the creeks and rivers that run into Lake Tahoe.
[Note: The lakes of southern San Joaquin Valley have all but disappeared, the Kings River and the Kern River now delivering all of their available water into irrigation basins and channels.]
---
Return to previous page.